Figge Fellows
The John and Pat Figge Fellowship Program brings together issues of global concern and theological reflection in faculty-mentored student-research projects. It is a highly selective, one-year program open to Georgetown undergraduates in all years, all schools, and all majors. Peer collaboration and faculty mentorship are essential components. Completed research projects are presented to peers, faculty, deans, and other distinguished members of the university community.
The Program
Each year, through a highly selective application process, a new cohort of student-fellows is selected based on the aptitudes of the applicants, the promise of their projects, and the diversity of their interests. While a Catholic theological perspective and Jesuit priorities of research, reflection, and action are central to the program as a whole, individual fellows develop analytical frameworks for their projects that are drawn from the full range of world faiths. The resulting diversity across the research projects invariably works to the advantage of all participants.
"Structural Change: Constantine in the Early Church from a Eusebian Perspective," AJ Degrado (MSB '22)
"Integral Human Development and the Capabilities Approach," Bakhita Fung (SFS '23)
"Jewish Migration and Cultural Adaptation from South Africa since 1970," Alex Cywes (SFS '23)
"Theology and Morality in the Provisional Irish Republican Army," Lily McGrail (CLAS '21)
"The Paradox of Goddess Worship: The Idealization of Hindu Goddesses and the Disempowerment of Modern Hindu Women," Tundaa Dorjnamjim (SFS/MSB '24)
Scroll down for yet more examples of successful Figge projects.
Fellows work on their projects over the course of the academic year. During the year the fellows participate in workshops and retreats on applying methods of theological reflection to issues of social concern. Projects culminate in research papers (of ca. thirty pages) and in presentations to students, faculty and other distinguished members of the university community. Upon successful completion of the Fellowship, each Fellow receives a $500 stipend.
Project topics from the previous year are sketched below. They represent every disciplinary approach that can be found in the University. Projects often develop from students' previous work or enhance current research in which a student is engaged.
Potential applicants are welcome to send questions to the program's student coordinators, named below, at figgefellows@gmail.com (new window) .
2021-22 Fellowship
To apply, please complete and submit the Figge Fellowship Application (new window) by 11:59 p.m. on Monday, September 13, 2021. For more information on the Fellowship, view this document. (new window)
Jesuit Advisors:
Drew Christiansen, S.J.
2021-2022 Student Coordinators
Mariana Guzman (MBS)
Tundaa Dorjnamjim (SFS)
With questions about applying, please contact these student coordinators at figgefellows@gmail.com (new window).
Origins
The program began at the inspiration and with the generosity of the John and Pat Figge family. They launched their first undergraduate student research fellowship under the auspices of the Woodstock Theological Center in 2009. In the decade (plus) since its inception, the program found a new home in Georgetown College's Catholic Studies Program and grown. Its aim, however, has remained constant: to encourage Hilltop undergraduates to engage in deep, serious, and consequential "theological reflection on the human problems of today."
Participants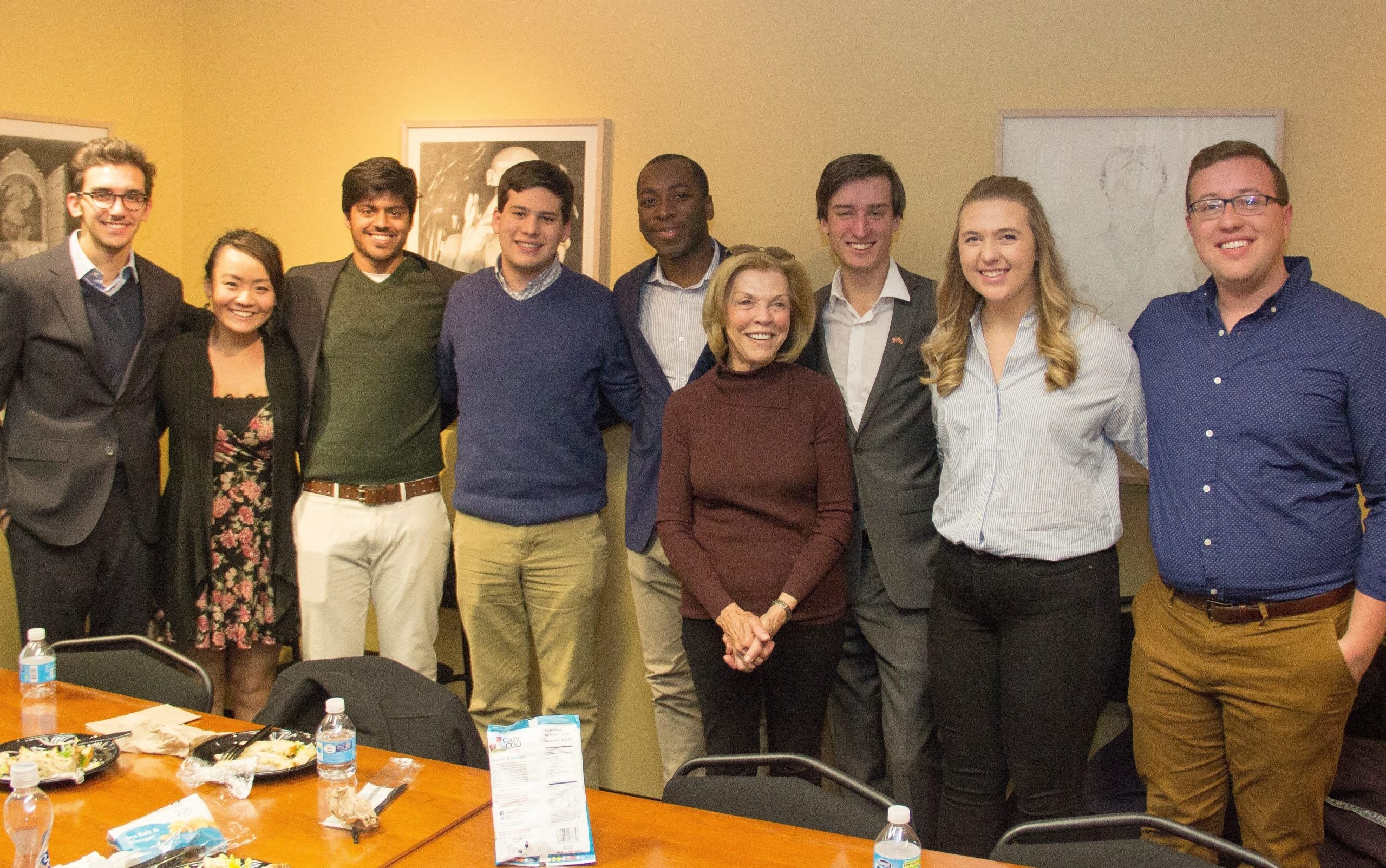 2020-2021 Figge Fellows:
Winston Ardoin
SFS Class of 2021
Major: Regional & Comparative Studies major with a concentration on Latin America and Africa
Project Name: Liberation Theology & the Push for Social Change in the Americas
Project Description: Through a lens informed by the theological writings of Peruvian priest Gustavo Gutierrez, Ardoin is studying how liberation theology inspired the actions and politics of former Haitian President Jean-Bertrand Aristide, ELN member Camilo Torres Restrepo, and American missionary in Central America James Guadalupe Carney.
Tundaa Dorjnamjim
SFS Class of 2024
Major: International Economics
Project Name: The Paradox of Hindu Goddess Worship: How the Idealization of Hindu Goddesses Disempowers Modern Hindu Women
Project Description: Dorjnamjim is researching a wide range of Hindu rituals including pujas and social practices like chauupadi and the impact of these rituals on ordinary women using purity and auspiciousness as a measure of welfare.
Bakhita Fung
SFS Class of 2023
Major: International Political Economy
Project Name: Integral Human Development and the Capabilities Approach
Project Description: This paper seeks to bridge the religious versus secular divide in the field of development ethics. By comparing the framework of integral human development (Catholic teaching on development) and the capabilities approach, Fung sheds light on how scholars of both theories can work together to re-imagine development for the common good.
Mariana Guzman
SFS & MSB Class of 2024
Major: International Political Economy and Business
Project Name: How The Absence of Catholicism in Mexico Failed Women
Project Description: Guzman is analyzing the role of the Catholic church in the Mexican wave of femicides stemming from the early '90s to today. The project will analyze the relationship of the church with the femicide capital of Ciudad Juarez, Mexico, the larger Mexican population, and how the church can use their presence, going forward, to prevent similar humanitarian crises.
Lily McGrail
COL Class of 2021
Major: Government
Project Name: Theology and Morality in the Provisional Irish Republican Army
Project Description: McGrail is exploring the intersection of theology and morality in the actions of the IRA during the Troubles. She also hopes to investigate the religious motivations behind actions taken by Catholic priests that were either complicit in or opposed to the IRA's terrorism.
Alex Cywes
SFS Class of 2023
Major: Science, Technology, and International Affairs
Project Name: Jewish Migration and Cultural Adaptation from South Africa since 1970
Project Description: Cywes' project will center around the changes to the Jewish community in South Africa since the 1970s. It will also tie this to larger Jewish cultural adaptation and look for wider themes that link the global Jewish community.
---
Figge Fellow Additional Achievements
Amber Stanford, from the 2019-2020 cohort, has earned three additional awards from her fellowship. In 2021, Stanford won the Marshall Scholarship while exploring Black Women and Religious Movements. In the same year, Stanford also earned the Coakley Award at the Tropaia Awards Ceremony. In 2020, Stanford was selected for the Chester Gills Award. Stanford's graduate studies continue from her Figge Fellowship.
Emma Bradley, a 2018-2019 Figge Fellow and Student Coordinator 2019-2020 & 2020-2021, has had the opportunity to serve in Lesvos, Greece, alongside a Christian organization, Teach Beyond Borders, which uses educational programming to accompany displaced children and their families. Inspired by her research, this in-person experience (from July to August 2019) sparked a passion in Bradley for sustainable peacebuilding and the role of education in building cultures of peace to preempt refugee crises. This experience led Bradley to direct her subsequent years at Georgetown toward diplomacy and sustainable peacebuilding.
---
Past Figge Fellows
2019-2020
Ankushi Mitra, Sarah Watson, AJ Degrado, Ana Ruiz, Maya James, and Amber Stanford.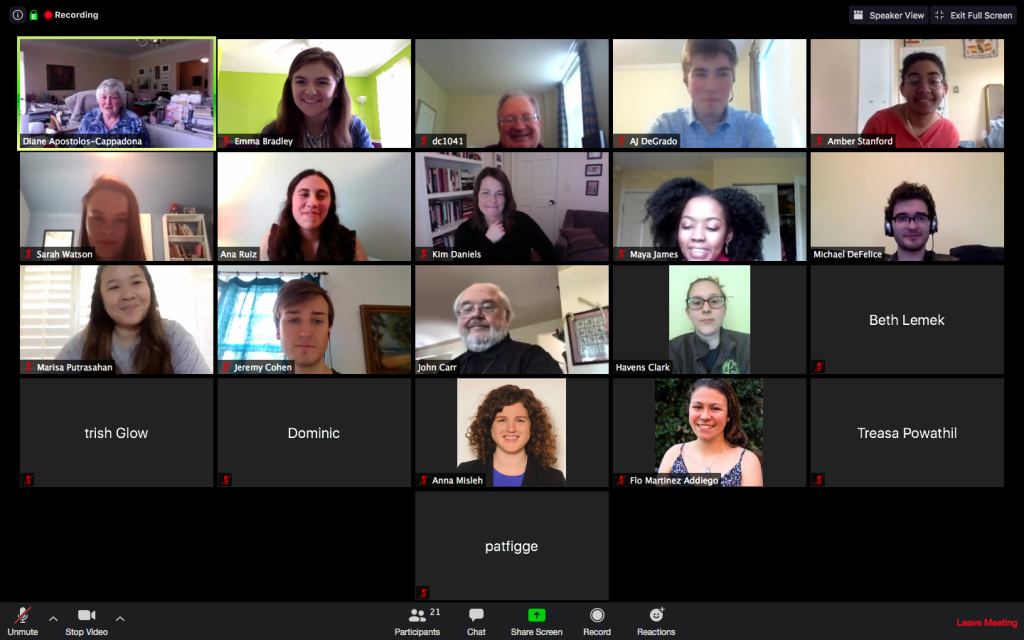 2018-2019
Kelsey Yurek, Marisa Putrasahan, Arin Chinnasathian, Benjamin Brazzel, Emma Bradley, and Justin Potisit